Man
and Context:
Indivisible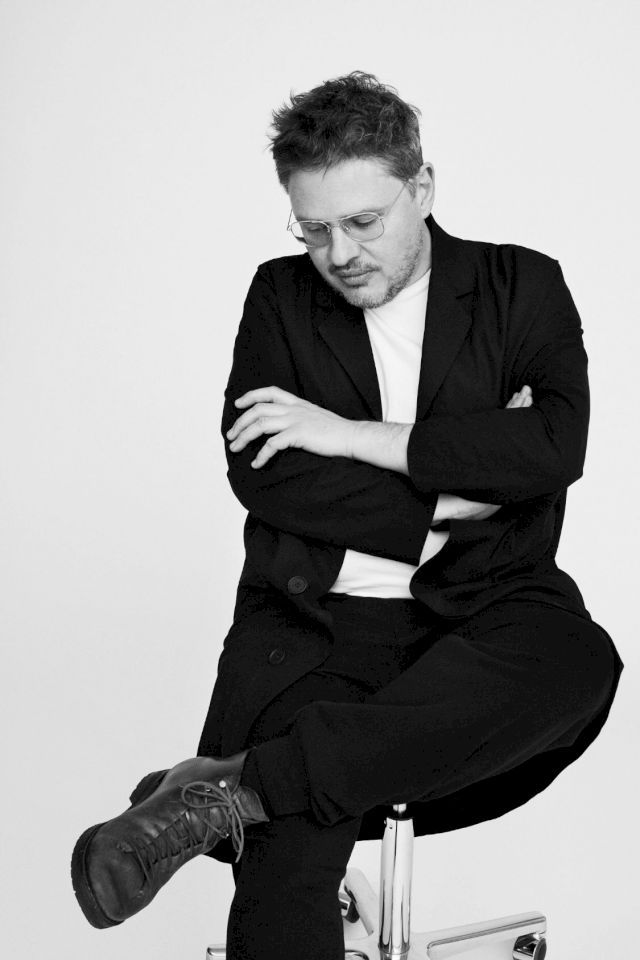 When Christian Kaspar Schwarm was six or seven years old, his mother made a tentative attempt to curb his relentless confidence: "If you don't always expect the best, you will be disappointed less often," she told him. Without much thought, her son replied, a bit cheekily: "Mum, a true optimist is never going to be disappointed! Looking back, Christian is surprised by the response himself - but it corresponds with what he was to learn from another wise man decades later: "We may not always have control over what happens to us - but we do have control over how we react to it. Our perspective, and with it our position, is potentially much more dynamic than we often want to admit ourselves. Though it is quite exhausting to open up and broaden our perspective, we are almost always rewarded for it.
Christian, born in 1972, has been an active entrepreneur and creative consultant for almost 25 years. As early as 1996 - when there were just 257,000 websites in the world (today: over 1.8 billion) - he and friends started an early digital agency, which in the following years became one of the most creative of its kind worldwide. Six years later Dorten followed, an agency whose concerns Christian, as owner and creative head, summed up in four words: "attitude, relevance, context and depth". At the end of 2014, Christian decided to leave his own company – to stop being a "manager" and to become a "thinking companion" again. Today, in 2020, he is the owner of Schwarm Projects, which he founded together with Jone Szmania in 2015. He is also co-founder and main shareholder of a new form of agency that works balancing business, culture and social issues: Independent Connectors. This agency emerged from the digital art platform Independent Collectors founded by Christian in 2008, which today is the largest non-commercial chronicle for private art collections, has been cooperating with BMW for ten years and regularly publishes the BMW Art Guide by Independent Collectors.
Two other projects very dear to Christian are the curated book subscription service 8 BOOKS A YEAR and his goal to introduce the Sunship Audio Loudspeakers to an audiophile public. Christian is actively engaged at Karuna e.V. (Future for Children and Young People in Need) and the Karuna Social Cooperative, which sees itself as a social development laboratory and focuses on innovative projects to combat homelessness - including publishing, for example, Berlins' latest street newspaper Karuna Kompass. Christian is passionate about contemporary art and loves electric to electronic music. Since 2018, he has been a lecturer of strategy at Mannheim Pop Academy, one of the few state-run academies for popular music in Germany, and also teaches at the Institute for Transformational Leadership in Berlin. Last but not least, during the corona crisis he wrote a "Book of Wonder for Grown-Ups" – together with his "house philosopher" Schwein.
The Library:
Space to Think
Christian's office is a library. That he spends his day working among books had several reasons: In the past, Christian used to miss certain titles while working, in order to look something up or to verify a thought. Also, the nearly 5,000 non-fiction titles that were – almost all of them – published in the 21st century, were no longer adequately accessible at home due to lack of space. And finally, for Christian, a library is literally symbolic for concentration and contemplation - and thus for what creative thought and strategy work needs as a framework. A few years ago, an old remise near Berlin's Nollendorfplatz provided the opportunity to make this dream come true: Together with the architect Sam Chermayeff, the contemporary form of a private library - as a place of encounter where thinking is supported by both printed and digital sources – saw the light of day.
Finally, a few more facts: as entrepreneur and creative companion Christian has worked with almost all relevant industries. A few companies and brands for which he has been or is currently working for extensively: Allianz, Audi, Bechtle, Bertelsmann, BMW, BoConcept, Bosch, Daimler, EvoBus, HypoVereinsbank, IBM, Lenovo, MINI, Neue Zürcher Zeitung, NZZ am Sonntag, Vitra, Welt Kompakt, Die ZEIT, as well as numerous medium-sized and smaller companies.
Even more important than specific industry knowledge is Christian's knowledge of dealing with social changes - which he has been able to accompany particularly in the media and publishing industry (with several highly regarded positioning concepts and campaigns), as well as in the mobility and automotive sectors. As the owner of the agency, Christian was, for example, several years responsible for the global market launch of the new BMW electric sub-brand "BMW i". In the technology-driven SME sector, Christian worked with over a dozen of companies and for several years, was board member of a globally active machinery manufacturer. He knows the agency and communications industry from almost 20 years of personal experience and from the founding of three of his own agencies (two of which are still active, one of which with Christian as main shareholder). Last but not least: the world of art and music. Here, Christian both professionally and privately, passionately enjoys the inspiration these creative fields bring and is driving the digital transformation of the global art world with his own non-commercial platform. For his endeavours over the last years, he has been awarded the renowned ART COLOGNE Prize for "outstanding achievements in art mediation" in 2019.