Happiness Can't Be Bought –
but you Can Pay for Seduction
UNSER LEBEN MIT SCHWEIN
Ein Wunder-Buch für Ausgewachsene (DE)
By Christian Kaspar Schwarm, published by United Landscapes | 25,00 EUR (incl. VAT, plus shipping) | Order here or at your local bookstore
Usually, Christian is the one accompanying companies on their way into the future.At home however, the advising is done by somebody else: he and his girlfriend Lea are being advised by Schwein. Schwein is a very special kind of philosopher who moves smooth and in completely unexpected ways through various questions of human existence. The Corona crisis gave Schwein and Christian time to write their first book together. Among other things, it defines the "fully complex age", explains why it is neither a good idea to hide something from oneself nor from others and why it is so important to integrate the "excavator of acceptance" into life. According to Schwein, this book is a "signpost towards confidence" and seduces readers with great delight.
8 BOOKS A YEAR
Curated Non-Fiction Book Subscription
Any start date possible, valid for the next 8 selected titles | 375,00 Euro (incl. VAT) | Order via 8BOOKSAYEAR.COM
Almost all books in Christian's library are non-fiction titles, and most of them were published in the 21st century by small independent publishers. It's these lovingly produced books that repeatedly turn out to amaze and enthuse visitors – which is why five years ago, we came up with a book subscription service. 8 BOOKS A YEAR selects especially original, relevant or beautiful books to send to its subscribers; each title coming with a text by Christian printed on a specially made hanging card above the cover. With some books additionally including something special made by the author(s): surprising add-ons exclusively for subscribers. 8 BOOKS A YEAR is for all of those who'd like to make themselves – or other book lovers – a lasting gift: it's for those, who enjoy to be surprised on the regular and those who cherish the inspiration of being taken away into unknown territories. Our curated book subscription even ended up in a museum: just recently, the Bremen Weserburg Museum integrated 8 BOOKS A YEAR into its own collection.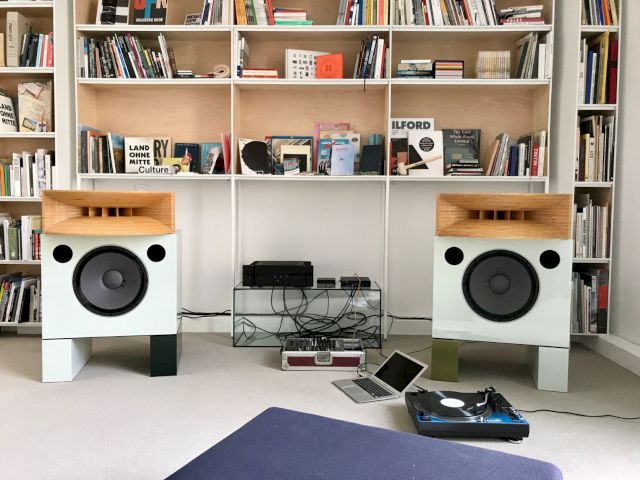 During a trip to the west coast of the US Christian comes across the work of a friend: After decades of research, testing and investigation, Bertrand Fleuret came up with the contemporary interpretation of a loudspeaker that many connoisseurs around the world would consider to be the "holy grail" of Japanese loudspeaker philosophy. Hand-built and equipped, among other things, with extremely rare TAD components and a self-developed crossover. These had to be made accessible for a wider audience and as a result, Christian Kaspar Schwarm's Library became the world's first "listening room" for Sunship speakers. Visitors and listeners alike – among them many professionals – treasure the absolutely unique sound experience, which some even call "unequalled" compared to the world's most expensive systems. To hear music with all its depths, the way it was originally produced and intended is a gift – a gift we can only begin to appreciate while discovering it. These loudspeakers make music sculptural again. They definitely have their price, but they change the way we perceive music – for a lifetime.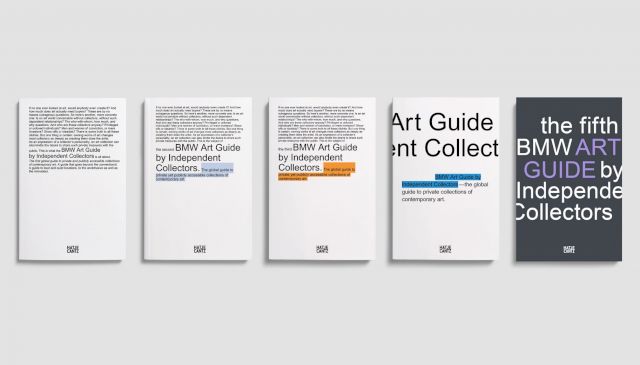 THE FIFTH BMW ART GUIDE BY INDEPENDENT COLLECTORS
The Global Guide to Private Collections of Contemporary Art
Published by BMW and Independent Collectors, 5th extended edition | 15.00 Euro (incl. VAT) | Available from Hatje Cantz Verlag or anywhere books can be bought (there's a German edition too)
As founder of the digital art platform Independent Collectors, Christian Kaspar Schwarm naturally encounters many collectors – and also visits quite a few collections personally. Fascinated by the inspiring universe of these diverse locations, Christian came up with the idea of compiling the most interesting ones into a worldwide guide book. In cooperation with BMW, the first edition of this unique cultural travel guide was published in 2010. Since then, the number of private art collections presented has increased from edition to edition – the current and fifth version features 270 locations in 196 cities and 43 countries. Practically a must-read for art lovers who love to travel.
THE CRUCIAL LIBRARY
Customized Library Conception and Curation
Price on request | Please contact us to start a conversation
For Christian Kaspar Schwarm, libraries are much more than just silos of knowledge. A contemporary library is an inspiring place to think, work and meet – it is a place where printed sources can exert their strengths just as much as their digital counterparts. A few years ago, Christian took the liberty of fulfilling a long-cherished dream and transformed his own office into a library. His experiences with this special place and the selected books made him realize what importance – in today's hyper-complex world – is placed again on the almost archetypal space of the library. In addition to his strategic work, Christian therefore is very happy to advise companies, brands and private individuals on the conception and curation of an original library, customised and unique.